eLearning Courses
Partner with us to transform your content into a fully responsive and visually stunning learning experience for students. Academic Technology and Outreach professionals can produce all types of content -- simulations, HD demos, assessments, and more -- and content can be deployed across mobile platforms. Add audio and video content for a rich and interactive experience that engages students. Integrated features can track and assess students' progress.
Take a sneak peek at these courses currently offered.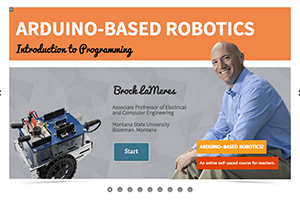 Arduino-Based Robotics
Learn the ins and outs of Arduino hardware adn software by constructing and programming an Arduino-controlled robot kit, complete with LED lights, audio, sensors and motors.
This course is integrated with Adobe Connect to provide secure login and tracking functionality, but it may be deployed as a stand-alone program from any website.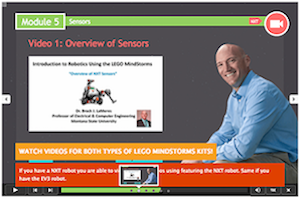 Introduction to Robotics
This non-credit online course introduces robotics as a method for teaching STEM. Through self-paced, instructor-led tutorials, students learn about computer systems and programming, robotic construction, locomotion, sensors, and more.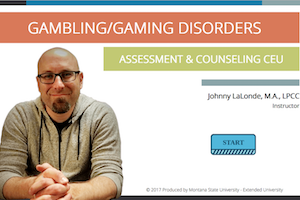 Gambling/Gaming Disorders
This continuing education unit provides an overview of gambling and gaming disorders. Students will work autonomously through the content of this course. The course consists of four modules, each with a quiz, and a final exam.