Teach for Us Proposal Submission FormDo you have a special skill or area of expertise? Do you like to share your talents with others in the community? We want to hear from you!
We are always on the lookout for instructors who want to develop and/or teach non-credit seminars, workshops, short courses or certificate programs.
We Partner with
Experts in the greater Bozeman community who

want to teach a non-credit course on a topic

that engages community interest
Local businesses, nonprofits, government offices or other organizations looking to offer non-credit courses to the public
Businesses, nonprofits, government offices or other organization with training needs for their members
MSU faculty or staff looking to offer public-facing courses for personal enrichment, professional development, or grant-based outreach and impact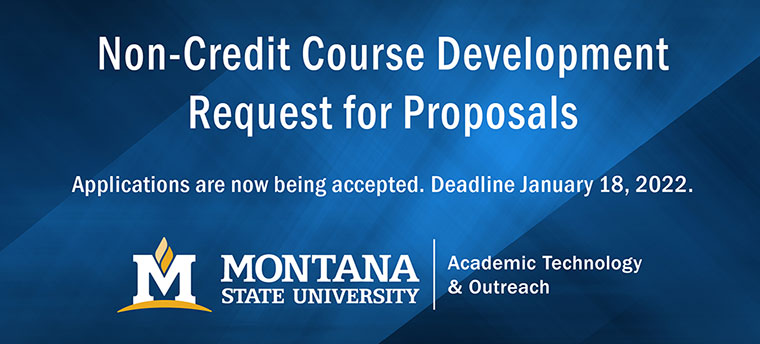 2020-2021 Non-Credit Course Development Request for Proposals
We invite proposals for the development of non-credit courses. Our goal is to leverage the knowledge and expertise of MSU faculty and staff to address the professional development needs of the people of the Gallatin Valley and beyond.
Submissions by off-campus groups or individuals are encouraged and welcome but will only be considered for funding in exceptional cases.
Deadline: Tuesday, January 18, 2022
Program Possibilities Include
Online Programs
Outreach and Impacts Grant Work
Workforce and Career Development
Professional Development
Lifelong Learning
Public Interest/Public Affairs
Customized Trainings or Workshops
Youth Programs
What We Offer You
We help experts and instructors who want to teach and share, but have limited resources to take care of logistics.
If you partner with us, one of our talented program managers will oversee your course process from start to finish. We'll meet with you to get an understanding of what your needs are and to help you bring your vision to life.
We can:
Manage course registrations and fee collection with our online portal

Include the course among our listed offerings (as appropriate)

Include the course in our basic marketing efforts

Provide you with the infrastructure to deliver:

a face-to-face course/learning opportunity

an online self-paced course

an online synchronous or asynchronous course or a blend of both modalities

a blended course with face-to-face and online components

a youth program

Host your course or part of it in Brightspace, our Learning Management System, where you can:

communicate with students
distribute course materials and readings
deliver lectures or presentations
conduct student assignments and presentations
facilitate online discussions and student collaborations

Create digital badges that participants can display on LinkedIn and other social media
Other Benefits
For Local Businesses, Organizations and Experts
Have your program listed alongside other MSU continuing education offerings
Increase visibility for your organization
For MSU Faculty and Staff
Reach beyond the traditional academic audience
Campus and community visibility for your department and college
More flexibility than traditional for-credit curricular models
Proposing to Teach a New Course or Program
Complete the proposal submission form.
A committee will review your proposal, and a program manager will contact you to discuss further details.
Criteria for Proposal Review
We expect course or program ideas to have:
an interested audience

a lack of local competition
We also look at:
your expertise in your field
your experience as a teacher
the marketability and ease of promoting your suggested program
We'll collaborate with you to consider timing, format and cost.
To see what we're offering right now, visit our current course listing.
Have an Idea but Don't Want to Teach?
If there's a course or program you wish we offered but you're not the person to teach it, please use our online form to make your suggestion.
For More Information
Learn more about partnering with us by contacting Mark Chakoian at 406-994-7957 or mark.chakoian@montana.edu.