iClicker Cloud Instructor Tutorials
Create an iClicker Cloud Instructor Account
Follow this tutorial to create an iClicker Cloud instructor account linked to your MSU NetID.
Please note that if you already have an iClicker Cloud instructor account, you will still need to create an account linked to your MSU NetID, and the tutorial will cover how to merge the two.
Set Up Your Courses in iClicker Cloud
Enrollment Settings
The iClicker Cloud integration with D2L/Brightspace will automatically enroll your students into your course when you sync your roster. We strongly suggest that you refrain from allowing students to search for and self-enroll in your course, as that increases the likelihood of students enrolling in the wrong section or with a personal email address.
In the Course Information section of your Settings > Course Details, select Students must be invited to this course.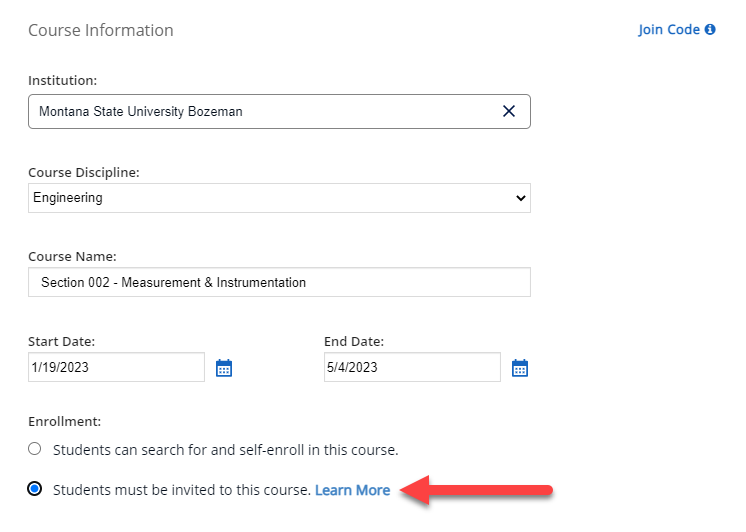 Integrate your iClicker Cloud Courses with D2L/Brightspace
The D2L/Brightspace integration tutorial page covers the following:
Please note that

if you have multiple sections merged in D2L that meet at different times, you will need to create a separate iClicker course for each section

.

Please note that while the instructions say that your students will get an invitation to enroll in your course, MSU has single sign-on enabled, and therefore

your students will not get an invitation or need to enroll

. They log into their accounts through the MSU portal, as outlined in the first-day-of-class PowerPoint below.
Use iClicker Cloud in the Classroom
Note: We recommend using the desktop computer in your classroom with the connected iClicker Base to run iClicker Cloud polling sessions. This allows students to use iClicker remotes to answer polling questions. Click the iClicker Cloud icon on the classroom computer's desktop to open. However, if you connect the iClicker base to your personal computer, you can also use that.
Download the iClicker Cloud desktop software to your personal computer here.
Additionally, please note that if you have students in your class with iClicker remotes instead of the iClicker Cloud mobile app, they can only respond to multiple-choice polling.
First Day of Class
We've created a first-day-of-class PowerPoint (accessible .pptx) to provide your students with step-by-step instructions on how to:
Log into their iClicker Cloud accounts.

Add your course.

(Optional) Register an iClicker remote.
Download the first-day-of-class PowerPoint (accessible .pptx)
Please update the red text in the PowerPoint to reflect your permitted devices and course frequency if necessary.