Overview: Online Graduate Certificates in Science Teaching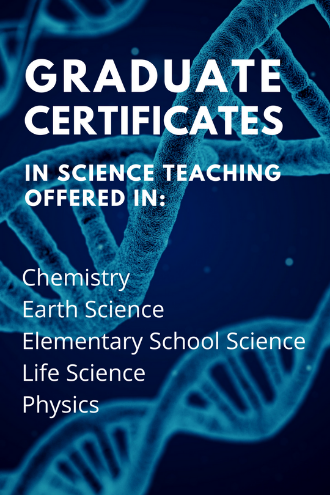 Online graduate certificates in science teaching help educators gain knowledge and competence in one of five specialized content areas. Whether you're teaching a new subject, working toward "highly qualified" status, or staying abreast of your field, our 12-credit graduate certificates will help you get there.


Certificates are offered through MSU Academic Technology and Outreach, creator of the National Teachers Enhancement Network. NTEN has been known since 1993 for high-quality online science courses.
These science certificates are designed for teachers of all backgrounds. Your fellow students will be K-12 teachers, community college instructors, museum professionals and informal science educators. As you learn along with peers from around the world, you'll absorb new ideas and fresh perspectives.
Courses are rigorous, content-focused and specially designed for teachers. NTEN's model pairs university professors with in-service teachers during course development.
Our instructors are experts in their fields and have been specially trained in online teaching
Courses are 100% online. You can complete your certificate at home and never need to come to campus. However, several field experience courses are available should you desire to visit beautiful Bozeman and the Greater Yellowstone Ecosystem.
Courses are asynchronous, so students can log in any time of the day or night. To maximize interaction among students, instructors will set weekly schedules and assignment deadlines.
Our Academic Technology and Outreach team offers fast, friendly, one-on-one support. From the application process to completion of your certificate, our staff will be with you every step of the way.
Requirements
12 credits
Students cannot use more than four credits of 400-level courses on a Certificate Program of Study.
Prerequisites
Applicants should have:
a bachelor's degree in science, science education, elementary/middle school/secondary education, or a related area
at least two years of successful science teaching experience in middle, elementary, or high school or other appropriate educational setting (e.g., museum, community college)
an undergraduate GPA of 3.0 or higher
If you have an undergraduate GPA that is less than 3.0, you may be admitted to the Certificate Program on a provisional basis. Please contact Kelly Boyce at (406) 994-6812 or (800) 282-6062.
Time to Complete
Most students will complete the Certificate in 1-2 years. Because different students have different responsibilities at work and home, not all students will progress in the program at the same pace.
All coursework for the Certificate must be completed within a 3-year window of time.
Students may transfer into the program a maximum of 3 graduate credits from MSU NTEN or Masters of Science in Science Education (MSSE) courses. All transfer credit is subject to approval.
Licensing/Endorsement
Graduate Science Teaching certificates are not licensing and/or endorsement programs. Students interested in initial licensure should check with the Department of Education in their states for local certification policies. Graduate Science Teaching certificate coursework could be used toward licensure/endorsements depending on the requirements of individual states.
For More Information
Use our online Request Info form or contact:
Kelly Boyce
Program Manager
Academic Technology and Outreach
Montana State University
128 Barnard Hall
PO Box 173860
Bozeman, MT 59717-3860

Tel: (406) 994-6812
Toll free: (800) 282-6062
Fax: (406) 994-7856
kboyce@montana.edu
Explore Further