BioScience Material Now Available from MSU Extension!
Experience the immersive hands-on science and research projects of BioScience Montana! The Neuroscience Module explores the brain, nervous and visual systems and examines how we store information as memories. The Metabolomics Module (think food metabolism) explores nutrition, how our bodies process what we eat and how food choices affect the quality of human cells. The Infectious Diseases-Bacteria Module gives an introduction to bacteria and their role in illness, bacteria's structure, the way they reproduce, how they cause infection, and the role of antibiotics in fighting bacteria. The three learning modules are available through MSU Extension. PDF versions of each module are available for download at no cost and hard copies are available for $10/module.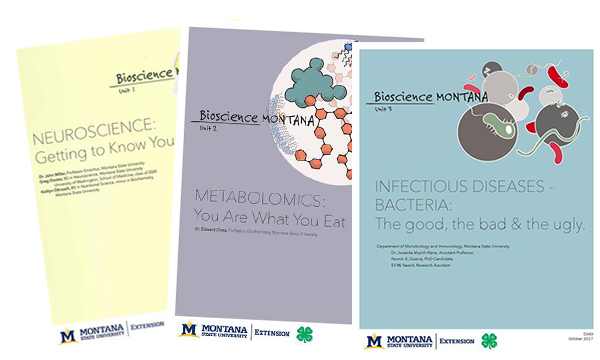 How does BioScience Montana work?
BioScience Montana was comprised of three science experiences over the course of a year, with experiments, hands-on exploration, video conferences, online discussions, and technology development occurring throughout the year. Participants, in teams of four plus an adult 4-H leader, came to the MSU campus in Bozeman for 5 days during August and one overnight weekend trip in January for on-campus lab-based experiences and assignments. They continued to work on those assignments when they returne to their communities while staying in touch with MSU faculty and mentors via online technologies. Assignments were largely team-based, and enabled participants to explore the ups and downs, and successes and failures that real scientists encounter every day. Participants also spent time with cool, energetic, and fun career and life student mentors and science assistants who helped them throughout the entire project and gave them a sense of what it's like to be a college student.


BioScience Montana in the news!
<td
Where were BioScience Montana particpants from?
Participants in BioScience Montana were 4-H members in grades 8-11. Youth participated as part of four-person teams and had a 4-H adult leader for guidance and coaching.

Bioscience Montana is made possible by Science Edcuation Partnership Award (SEPA) funding from the National Institues of Health (NIH).

NIH . . . Turning Discovery Into Health
---
Academic Technology and Outreach
Montana State University
P.O. Box 173860
Bozeman, MT 59717-3860
Tel: (406) 994-6550
Fax: (406) 994-7856
E-mail: ato@montana.edu
Location: 128 Barnard Hall
Director:
Kim Obbink